Pictures of Narasimha, Vamana, Varaha and Garuda Deities
---

Dear friends and devotees,

Jaya Sita Rama. Please accept my humble pranams.

The installation of Sri Jagannatha, Subhadra and Balabhadra will begin today at the Bhaktivedanta Ashram in Bhadrak, Orissa. Deities of Varaha, Narasimha, Vamana and Garuda will also be installed on the four sides of the temple as is the custom for Jagannatha temples in Orissa.

Below are some photos showing these four deities, sculpted in granite by shilpis from Konaraka. The pictures show various stages of the sculpting process, so you can see how the making of the deities progressed. There are a total of 20 photos, so it may take some time for all of them to load.

The pranapratishta ceremony will begin today with the collection of sacred waters from the Salandi river for use in the kalashas. Akhanda Nama Kirtana will also begin today and continue throughout the three days.

We would like to feed all of the pilgrims who come to attend the pranapratishta ceremony, and are requesting friends and devotees to help sponsor this. We estimate we will need to feed 15,000 to 20,000 visitors, which will cost around $2,200 (Rs. 100,000).


Vamana
Narasimha
Garuda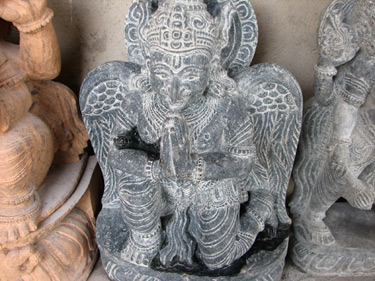 Varaha
Simha Dvara Palakas